Note: The RichText blog has moved to www.ricroberts.com
UPDATE 9 March 2007: If you're using a Mac, you might want to try TextMate with ruby-debug. See these more recent posts:
Fast Ruby Debugging
TextMate for Rails

UPDATE 7 May 2007: Aptana (formerly Radrails) now supports fast debugging. See this recent post: Aptana with fast debugging

UPDATE 12 Sep 2007: NetBeans is another debugging solution I've recently discovered (and one I'd heartily recommend trying).

In August, I made a couple of posts (RoR debugging, Gleaming Steel) regarding Ruby on Rails IDEs and debugging. Since then I've come across something which made me realise I hadn't been giving Radrails its due praise.

While browsing the RadRails community pages for news of any updates, I found a link to this article by Steve Midgley which explains how to set up Eclipse for inline debugging with Rails. Steve was using something called EasyEclipse, but RadRails is based on Eclipse so I gave his instructions a go, and hey-presto!... rails debugging.

It's a bit slow, but no slower than RubyInSteel or Komodo. I think the RadRails team should make more of an effort to publicise their app's ability to debug rails code, as other products make a big deal of this feature. (apparently "fast debugging" is coming in version 0.8 of RadRails).

Steve's instructions, although very informative, are quite "wordy" and somewhat oriented towards EasyEclipse - so I thought I would write my own instructions specifically for RadRails with some screenshots. (click on the screenshots to zoom in).

(I'm using RadRails 0.7.1 with Ruby 1.8.5 and Rails 1.1.6 on Windows XP SP2.). I've also got debugging going in Mac OS X see this post.

1. First, get your installation of RadRails set up properly (here are some good instructions for this).

2. Set a breakpoint somewhere (such as a controller method) by double clicking in the margin.

2. Open your rails project, and have the Rails Navigator View open. Go to the Run menu and choose 'Debug...'






3. You will be presented with the Debug dialog. Make a new configuration for your project and on the File tab, specify the file as script/server.




4. On the Arguments tab, enter -I"[path_to_rails]", like in the example below. (There is no space between the -I and the path). You can also specify program arguments too if you like, such as which port to start on (not shown below).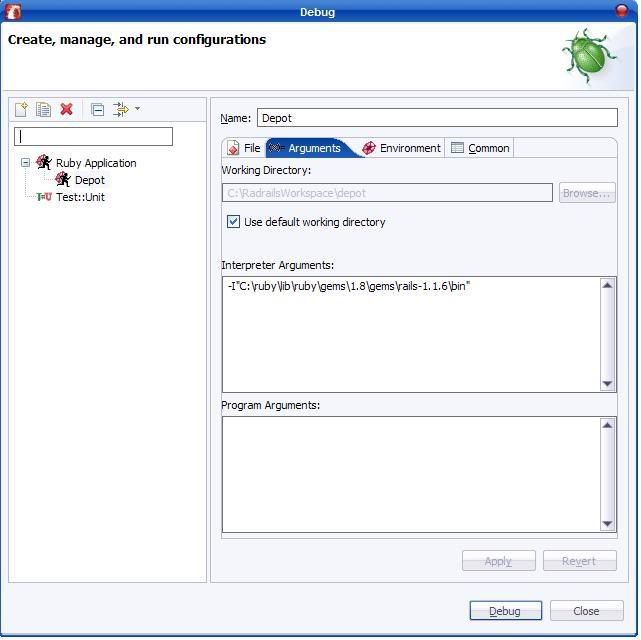 5. On the Environment tab, select your ruby interpreter.




6. On the Common tab, ensure that the "Allocate Console" checkbox is checked, and the "Launch In background" checkbox is unchecked.




7. Click Apply to apply all your changes. Clicking "Debug" should start the debugger. After a short wait, You should see something like the screenshot below in your RadRails Console window. If not, review the steps above as you've gone wrong somewhere.



8. Now open a browser and navigate to the relevant page to trigger your controller method.

9. (This step was updated 20th Nov 2006) Go to the Debug Perspective (Window -> Open perspective... ). You should see execution stopped at your breakpoint. You are now able to step in/out/over. You can inspect variables by highlighting a variable currently in scope, right clicking and choosing inspect. The variable will appear in the Expressions window (I think this shows in the top-right of the Debug Perspective by default).




To debug again later, you can simply go to Run -> Debug History, and choose the name of the debug configuration you set up earlier.

All of this is essentially the same idea as setting up debugging in RubyInSteel or Komodo, so I knew it must be possible somehow, I just couldn't figure out the configuration options - my thanks go out to Steve Midgley!